Rescue dogs are not a cheap way to get a purebred dog.
Vizslas are a very active and demanding breed. They are not the best match for everyone wanting a pet. Occasionally Vizslas wander from their homes getting irretrievably lost from their owners. (We recommend that all dogs be microchip and wear identification on their collars.) Some misguided owners cause their would-be hunting companions to be gun-shy. Some Vizslas are unwanted gifts.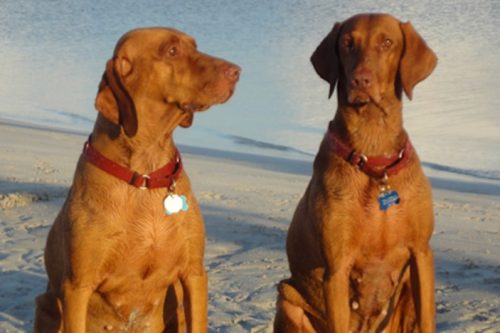 Is A Rescue Vizsla For You?
All the above situations, plus family crisis and other varied scenarios cause Vizslas to come into our rescue program. Each dog is evaluated for medical and temperament problems and placed appropriately if possible. Most of these dogs are traumatized by the upheaval of life as they knew it and require months of understanding and love to overcome their fears and training lapses (or lack of). They do become loving wonderful companions.
Rescues are spayed or neutered, vaccinated and heartworm cleared and microchip before placement and are evaluated by one or more club members. Age varies due to the volume of rescues coming thru the program. Females come in less frequently than males.
An adoption application is available by calling one of our committee members. Applications are kept current. You will be contacted when your application matches one of our rescues needs. Please note that we are only active in purebred placement. However, rescues rarely have papers. An evaluation will be made by a member of the club when there is a question of a dog being a pure bred. Mixed rescues are not taken into our program, but information will be shared if we have knowledge of a mixed Vizsla and you might be interested.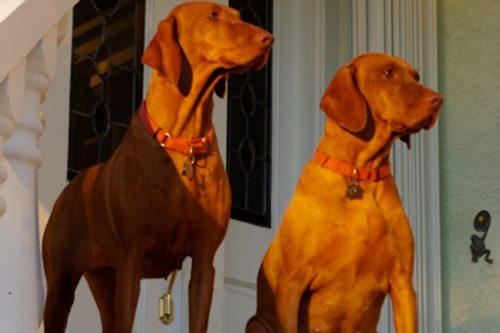 How Much Will It Cost?
Currently the donation (more is ALWAYS WELCOME) for a rescue Vizsla is $375 which meets only a fraction of the costs that we incur and is subject to change due to needed procedures above and beyond the normal rescue. If there are travel and crating costs incurred to place a rescue, those costs are passed on to the adopter.
Are You Looking to Place a Vizsla In Our Rescue Program?
If you are looking to PLACE a Vizsla in our Rescue Program, please contact Rescue Coordinator who will discuss our policy and procedures for intake. If this is an owner/finder turn in, a transfer of ownership and release of liability form must be signed. A current heartworm test is also required.
If Rescuing A Vizsla Is Something You'd Like To Do:
You Can Fill Out Our Online Application Here: Rescue Application
Rescue Coordinator
Valerie Smith
809 Cleveland
Saint Louis, MO 63122
314.920.8798
tsavovz@aol.com